Mammon, my bad
Monday, 8 May 2006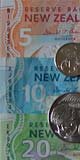 I reckon we need a Prism article (or column) on business and money. Maybe it's just me, but as I've earned more (pay rises and the like), I've realised more that how we handle money is a pretty big deal. In the sense that there are lots of questions to ask Ė both of yourself (checking yourself for honest and wise dealings) and of others (for advice).

Is the desire to make lots of money wrong? Is it the task of each of us to invest and grow what we have? (The parable of the talents seems to think so. It's quite a capitalistic parable, in fact. :-) Is it as simple as keeping your sense of honesty and humility as your bank balance grows? In the business scene, what are some examples of people that are passionate and driven, yet humble?

I'm asking more questions than I'm answering, of course, partly just to help my own thinking. What are your thoughts?

And just for fun, did you know the phrase "my bad" was apparently coined by a Sudanese basketball player?