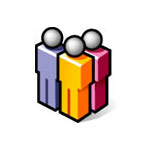 Prism people
The Prism editorship consists of a bunch of youthfuls from up and down New Zealand, with a good number of us from the Wellington region. We're Christians, and we want the beauty of God and His creation to shape the way we act and write.
Most of us are from the Reformed Churches of New Zealand, but we welcome contributors well outside this sphere.
For now, the core group of Prismatics are:
Anna Bartlett – admin person and customs inspector.
Matthew Bartlett – typography and motorcycle maintenance.
Ben Hoyt – chief editor and dreaming idealist.
Bryan Hoyt – web master and film director-to-be.
Franci Hoyt – cooking editor and pet-loving realist.
Jonathan M. – art director and brevity expert.
Andrea Munroe – writer and Chopin sound-alike.
Joel Rademaker – slogan creator and lead pipe specialist.
Hans Snoek – supporter and medical consultant.
Tim Sterne – amateur sportsman and aspiring sports writer.
Aaron Stewart – writer and blog pundit.