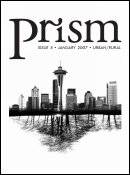 Issue 5, Jan 2007
Urban or rural? Or maybe both?
Is there something about the city that draws people into its busy pace? Why do so many urbanites secretly (or not so secretly) want to find a nice place in the country? And why is Paradise called the Garden of Eden, but Heaven is a city – the New Jerusalem?
You can download the entire issue as a PDF (682KB), or browse through the articles below. To view or print the PDF, you'll need Adobe Reader.
Update, Sep 2007: Mrs Bartlett's yummy toasted muesli recipe is now online.
What's in this issue
Only on the web