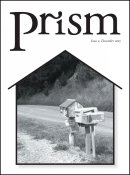 Issue 2, Dec 2005
We're back, in bold and black.
This issue's theme is Home: being local, trying to be content where we are, and wisely using what we have.
Please forgive the delay in getting it out. There's only so much time in a day, and we just decided it's better to aim for quality rather than getting it out quick. Plus, it should be excellent Christmas reading.
You can download the entire issue as a PDF (859KB), or browse through the articles below. To view or print the PDF, you'll need Adobe Reader.
What's in this issue