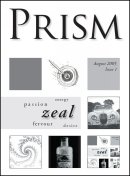 Issue 1, Aug 2005
To give people a taste of Prism's content, we gave away this first issue for free (all 240 copies were snaffled up quickly).
This issue's theme is Zeal.
You can download the entire issue as a PDF (520KB), or browse through the articles below. To view or print the PDF, you'll need Adobe Reader.
What's in this issue