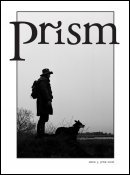 Issue 3, Jun 2006
Loyalty is the hot topic this issue, so we've got various articles directly and indirectly related to this theme.
For Hannah Holder's online-only article about the faithfulness of Sam Gamgee in The Lord of the Rings, see below.
You can download the entire issue as a PDF (709KB), or browse through the articles below. To view or print the PDF, you'll need Adobe Reader.
What's in this issue
Online-only articles